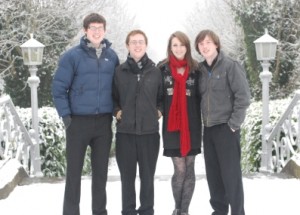 The four members of the Vltava (vol-TAH-va) String Quartet were friends while they were studying at the Laois School of Music. Having played together many times, in many different orchestras and groupings, the four players eventually came together, combining each member's respective talents to form the Vltava String Quartet. They immediately began playing music at weddings and functions in the local area, gaining many valuble experiences as a group, such as performing at castles and estates around Ireland, and at Electric Picnic in 2007. Vltava were delighted to have the privilege to perform at President Michael D. Higgins' summer Garden Party in July 2013.
Individually, the members have gone on to play prominent roles in the Trinity Orchestra, Téada Orchestra, the Leipziger Universitätsorchester, the Midlands Orchestra, NUIM Chamber Orchestra, NUIM Chamber Choir, the National Youth Choir and the Mornington Singers. Eight years on, the quartet have provided their unique sound to many thoroughly satisfied clients. Some of our corporate clients include Univar, Laois County Council, LGMSB, The Irish Thoroughbred Breeders' Association, Abbeyleix Heritage, An Post, Pearl and Godiva and the Office of Public Works.
Feel free to check the website of our cellist Matt Rafter: mattrafter.com.